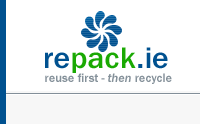 To the casual observer, "reuse" and "recycling" may be the same. In fact, many people use the word "recycling" when talking about "reuse". But from both a financial and an environmental standpoint, "reuse" and "recycling" are very different.

Take corrugated cartons for example. Reuse involves using the carton again in its original form, thus avoiding the need to purchase a new carton. In contrast, recycling involves sending old cartons to a paper mill, where they are pulped and used to make new products. Both activities reduce waste and can save money, but reuse is typically preferable. Like recycling, reuse saves money on disposal fees. But reuse also saves money as fewer new cartons have to be purchased.

Making a carton from recycled corrugated requires less energy and virgin resources compared to producing cartons entirely from wood. But reusing a carton means one less carton is produced entirely, with greater resource savings and pollution reduction benefits. That's why while recycling is good, reuse is often environmentally preferable: reuse first, then recycle.

How do I contact somebody at repack.ie?

Repack.ie
280 Bannow Road
Opening Hours:
Cabra, Dublin 7
Mon - Fri 9:00am - 5:30pm
Telephone: 01 868-3700
Email: bernard@repack.ie
General Manager:
Bernard O'Farrell
Production Manager:
Andrew O'Farrell